The Market Place, Ypres. The Cloth Hall (right top corner) houses the 'In Flanders Fields' Museum. It's rebuilding was completed in 1962.

The Hotel de Ville or Town Hall of Ypres.

The town of Ypres and it's historic buildings were reduced to rubble by enemy shelling. Incredibly the original plans were found and the town hasbeen rebuilt brick by brick exactly as it was before the bombardment started. The only clue to this is the dates on the buildings 1954, 1958, 1962, 1964, etc. etc.

At the end of The Great War Winston Churchill wanted Great Britain to buy Ypres and leave it in its ruined state as a Memorial to those who fell defending it. The citizens decided that Ypres, their home, would be rebuilt and The Menin Gate became their Memorial.

The vast majority of those who fell in the Ypres Salient will have moved out in darkness to the trenches and passed through the ramparts where the Memorial now stands

View from The Menin Gate towards the Market Place

A column moves along the Menin Road near Hooge. 1915-16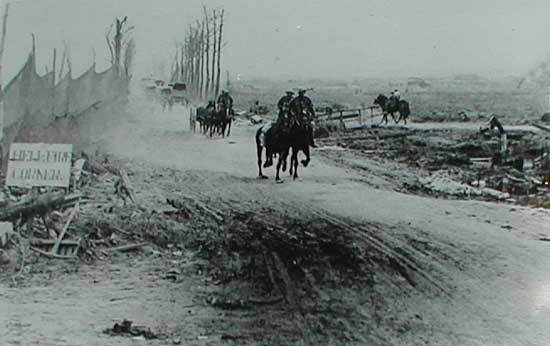 Passing along the Menin Road at Hellfire Corner.
During the war the Menin Road junction named Hellfire Corner was said to be the most dangerous place on Earth.
It was necessary to move as quickly as possible on this section of the road (evident by the dust from the horses hooves). Men going in and out of the Line, their supplies of equipment, food, etc had to pass this way. Much of the troop movements were carried out at night under cover of darkness.
The Germans on the Salient ridges a mile and a half away had a clear view of this junction and could range their artillery on it with deadly accuracy. Screens were erected along sections of the road to allow risky daylight movements to take place as can be seen here.
Photographs of Ypres taken August 2001