This is a photograph of HMS Grasshopper's sistership HMS Dragonfly at anchor off Hong Kong on October 10th 1939.
She probably appears in the same configuration as HMS Grasshopper at the time she was sunk.
Dragonfly and Grasshopper left Keppel Harbour, Singapore together bound for Batavia and were lost in the same action.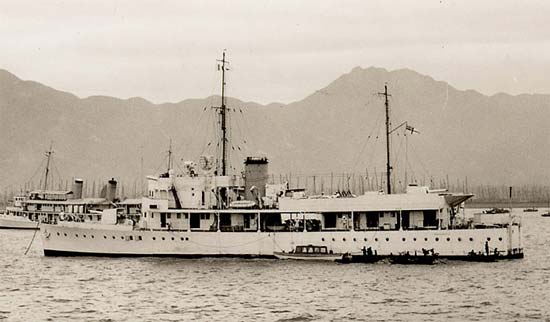 Below are statements made by witnesses regarding the loss of HMS Grasshopper.
National Archives Sources, Kew , London , England .
Source Reference: ADM267/122 (Admiralty Series)
Description: Admiralty: Department of the Director of Naval Construction: Damage Reports and Files
------------

We left Singapore for Batavia at about 2200 hrs., 13 th February, 1942 , together with Grasshopper and a naval launch. There were about 45 Officers and other ranks of the Manchester Regt. on board, also 2nd Lt. Strolly, 2nd Lt. Elton, 2nd Lt. Elkins, myself and two privates both named Jones of the 18 Div. Reconnaissance Unit. The crew was about 20 men. We steamed throughout the night and about 1100 hrs 14 February, we were a seaplane which dropped a bomb which missed. At 1200 hrs. about 20 bombers attacked us and the ship was hit three times. After about 10 minutes she turned turtle and sank by the stern. This was in the Rhio Archipelago. One lifeboat and two Carley Floats were launched and I managed to get on one of the latter with about 10 other men including a chief officer named Morris.
Statement by 3855191 – L/Cpl Hollard, Reconnaissance Corp. Ship Dragonfly (Gunboard 150ft approx).
------------

We left Singapore 1730 hours on 13th February 1942 , but with Dragonfly: returned about midnight when we sailed again. About 1000 hours on the 14th February one aircraft dropped one bomb that missed us. About 1230 hours two waves each about 25 aircraft bombed us. We were hit and the engine rooms began to flood. The ship was then beached near a small island in RHIO ARCHIPELAGO . . . . .
Statement by Mr. H. Barden, Eastern Bank , Singapore . Ship "Grasshopper" (800 Tons approx).
------------
HMS Grasshopper . . . . sailed from Keppel Harbour in company with HMS Dragonfly at 0100 (approx) 14/2/42 bound for Batavia . We had on board about fifty passengers, composed of Japanese Prisoners of War, Royal Marines, Army Officers and civilian men and women. Dragonfly decided not to lay up by day, but to proceed with despatch to Batavia .
By dawn we were through the RIOUW Archipelago and in the Riouw Straits. At 0900 (approx.) we were sighted by a Japanese seaplane, which carried out two dive bombing attacks on each ship. Dragonfly was undamaged. Grasshopper received slight damage from a near miss under the bows. At this time we were joined by a "Fairmile" launch ML1062 with troops of the Gordon Highlanders on board.
After these attacks it was decided to proceed . . . to the nearest land to lay-up. All three ships made for a small group of islands to the North of the Island of Sinkep . At 1130 (approx.) when only two miles from one of the islands we closed the wreckage of the tug. Saint Breoch. At this moment two formations of 81 bombers with attendant fighters flew over at 4000 feet in the direction of Singapore . (Army 97 bombers). Having passed over they broke formation and attacked in flights of 9 at heights of between 2000 and 4000 feet.
The waves came in from all directions at 5 minute intervals . . . . we avoided between 15 and 20 attacks . . . . Then about half a mile from the island Grasshopper was hit in the aftermessdeck and set on fire. We were unable to flood the after magazine which was in danger from fire . . . .
When I informed the Commanding Officer [Commander Hoffman] of the position aft, he took the ship straight in and beached her. Two more attacks were made after the ship was beached and before she was completely abandoned. The Japanese made one final attack with machine gun only, on the beach and jungle.
/ . . . . Commander Hoffman reached Padang on 22nd Feb . . . . /
Dragonfly was sunk by the first wave. The Fairmile ML1062 was machine gunned and beached herself. The attack was developed on Grasshopper . . . .
Account (edited) by Lt. Ian Forbes (I.D.S. Forbes) appointed R.A.Mj. on 1st Feb. 1942 .
I am most grateful to Mark Gamble, Leicester for for his kindly providing the details above. 20 May 2004