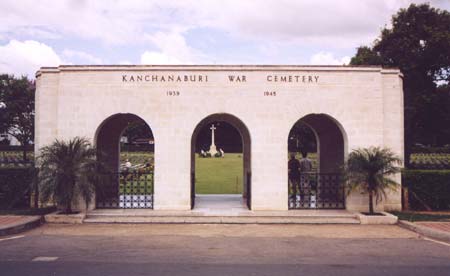 The entrance to Kanchanaburi War Cemetery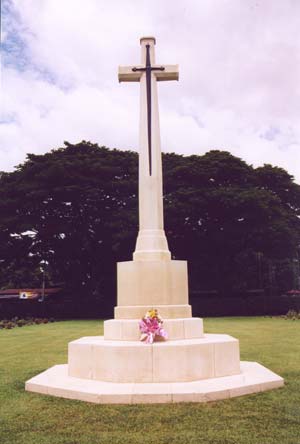 The Cross of Sacrifice, Kanchanaburi War Cemetery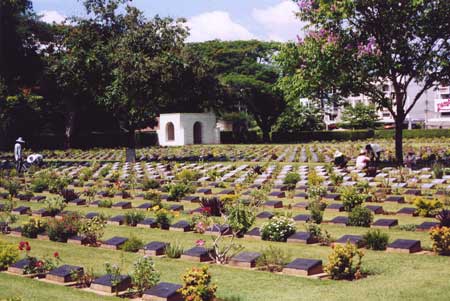 Kanchanaburi Cemetery with the Memorial Building in the background.
Note : Cemetery staff, who keep them beautifully, are at work on the graves.

Kanchanaburi War Cemetery contains the graves of nearly 7,000 Commonwealth servicemen who died due to illness or maltreatment while in the "care " of the Japanese.

Due to problems created by climatic conditions in the region the traditional Portland headstones are not used. The casualty's details are instead recorded on bronze plaques mounted on low pedestals.

The graves of soldiers " Known unto God". The Nikki
cholera victims grave is behind them in Plot IX.

Near Kanchanaburi was Kanburi POW Base Camp and associated hospitals. Most prisoners who worked on the railway passed through here on their way to other camps



After the war those who had been buried in the numerous camps alongside the railway were transferred to three new cemeteries at Thanbyuzayat, Chungkai and Kanchanaburi. The dead from camp burial grounds on the southern section of the railway, Bangkok to Nikki, were moved to Kanchanaburi and Chungkai.

This included the ashes of 300 prisoners who were cremated at Nikki (Nieke) Camp to try to halt a serious Cholera epidemic in May / June 1943. Their ashes were buried at Nikke but were later moved to two adjoining graves in Plot IX at Kanchanaburi. Among their number were 22 members of the 2nd Battn of The Gordon Highlanders, including Sandy MacDonald.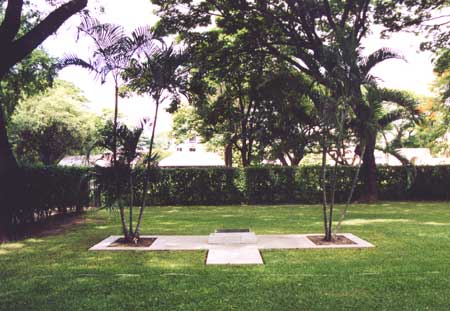 These graves contain the ashes of the victims of the 1943 Cholera epidemic at Nikki.
The bronze plaque over the graves bears the inscription

"HERE ARE BURIED THE ASHES OF 300 SOLDIERS WHOSE NAMES ARE INSCRIBED IN THE MEMORIAL BUILDING IN THIS CEMETERY".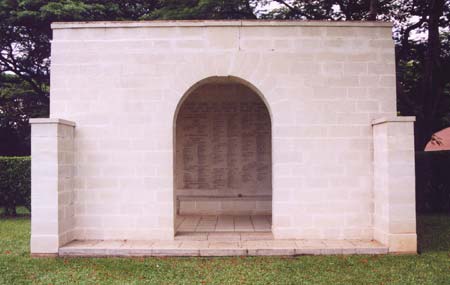 Nikki Memorial Building
Click on image to view memorial and Gordon Highlander's names
The author is extremely grateful to Holly McKenzie of Cambridge for arranging
to have these photographs taken at Kanchanaburi, Thailand..
Photographed July 2002.